Brooks
Floral ties have been all the rage for a while now, but desert and Cactus ties are quickly becoming popular too. So what do you get when you combine the two? Same thing you get when you combine chips with salsa, or warm weather with a white sand beach. Amazingness. That's how our Navy Floral and Succulent Tie, Brooks, will make you feel, AMAZING. The navy backdrop makes the pattern easy to match while the white flowers and mint green succulents give it, and you, style and personality. Available in skinny tie width or standard width. 
Brooks - Navy Floral and Succulent Tie - Tough Apparel
Customer Reviews
Write a Review
Ask a Question
07/01/2019
Adam G.
United States
01/05/2020
Hailey C.
United States
Amazing and perfect in every way!
My husband wore this tie for our wedding and it was PERFECT!!! Tough apparel has the best colors and patterns available. The pattern on the tie perfectly matched my bouquet and my husbands boutonnière! We loved the tie so much that the wedding party wore the tie as well. 10/10 can't rave enough. We LOVE TOUGH TIES!
Love the ties
My son has 2 ties and loves them both. We bought a matching tie for my husband for Easter and he loves it too. The only bummer is that the tails keep coming out so they ended up taping behind the tie. Not sure how to prevent that except making the little tag in the back go up higher so that the tail tucks in, but the patterns and colors are fantastic.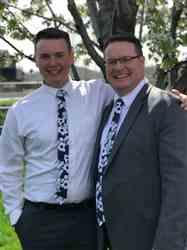 Shipping Policy
**Due to COVID-19 and Shark Tank, please allow additional time in processing and fulfilling orders. We are working with all partners to deliver your awesome Tough Gear as soon as possible.** We appreciate you and your orders!! We ship out product Monday-Friday, except for major National Holidays. Most orders will be shipped same day, if not then next day. To provide you with the best possible shipping prices, our standard shipping and free shipping options are through the United States Postal Service. We have no control on shipped orders once they are picked up by the USPS and claim no responsibility over the orders. We will do our best to help in any way possible but cannot guarantee any projected timelines given by us or the post office.