Skylar Bennett
& Kevin Shoemaker
Once Tough Tie, Now Tough Apparel.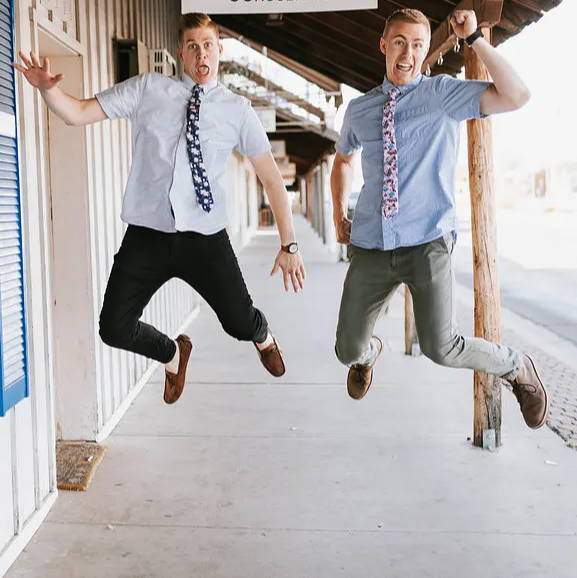 Two young professionals & new dads who grew tired of having their work clothes ruined.
The solution?
Create Tough Apparel.
How Can a Tie be Professional AND Lifeproof?
In 2014, as budding commercial real estate agents, Skylar and Kevin dressed professionally to the office every day: collared shirt, slacks, and tie. They each acquired a nice collection of professional attire and wore their new wardrobe with pride. Then in 2015, both became new dads. Gone were the days of being able to keep their work clothes clean and crisp. After succumbing to the fate of newborn baby spit-up that ruined their ties time and time again, Skylar and Kevin decided to do something about it. No, they didn't stop cuddling their adorable babies. They began conjuring up the idea of durable, machine-washable neckties that could withstand the elements.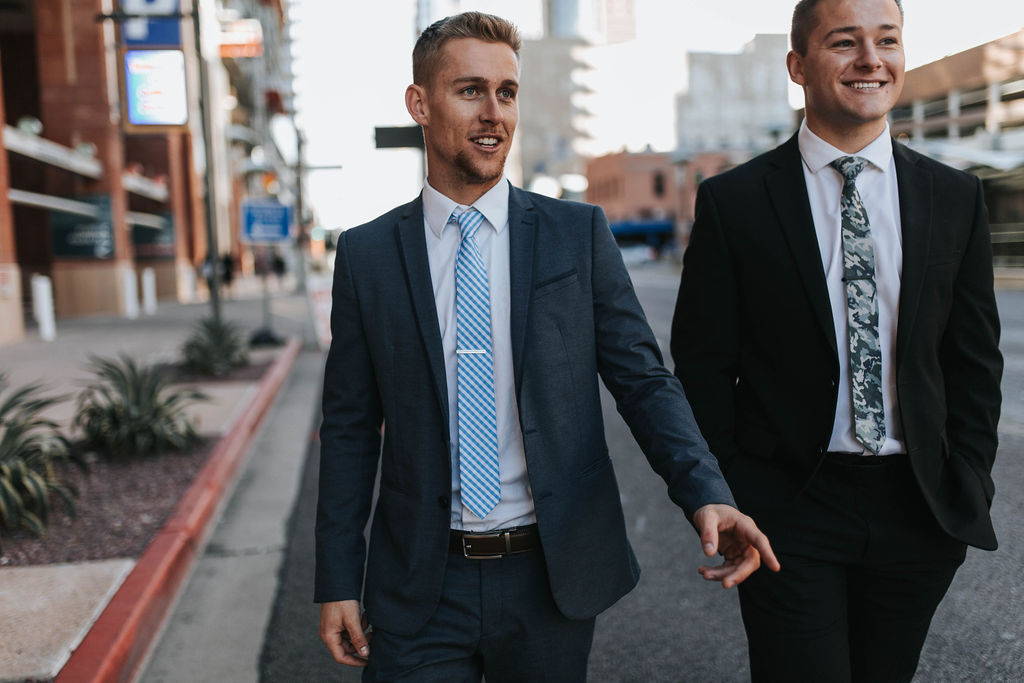 Thus, Tough Apparel was born. It wasn't a quick or easy journey, however. After months of extensively Googling and learning about every aspect needed to get a business off the ground, Skylar and Kevin met with a local Arizona fashion designer and the rest, they say, is history!
Life is Short.
Spend it Pursuing Your DREAMS.
After figuring out manufacturing, marketing, financing, and all the other areas of running a business, here they are, after quitting their corporate jobs to focus on Tough Apparel full-time: two young dudes creating awesome products and experiences for people who find value in exceptionally-made apparel that is designed to give confidence and withstand all of life's messes.
The main point of this story is to show that there's no secret formula for starting a business. There's no magic background, skillset, or partnership that equates to guaranteed success. Really it all boils down to taking an idea that you're passionate about -- and running with it. Skylar and Kevin encourage you to pursue your dreams like they did and do things you've never done before.
Need to bounce your ideas off someone? Call or email the guys at Tough Apparel. They're happy to throw in their two cents. Sometimes an outside perspective is what gets you to the next level. Remember: life is short, so you might as well spend it pursuing your own aspirations and goals instead of simply...existing.
If you love Tough Apparel, please help spread the word!
With your help, Skylar and Kevin can continue to expand Tough Apparel and offer even more Confidence Boosting Tough Apparel.

If you're interested in business collaboration, design, photography, advertising, etc, please email info@toughapparel.com.

Come visit our new store in Gilbert, AZ!
4331 E Baseline Rd #105 Gilbert, AZ 85234
Preach Supply by Tough Apparel