Oasis
Cactus is hot right now. Like July in Arizona Hot. Blankets, decorations, dresses, and oh ya, Ties. Yep….A unique Cactus Tie will put you smack dab at the top of the trendy ties list. And the Oasis is no exception. This blush tie covered in elegant Saguaro and Prickly Pears is guaranteed to entice a second look by those nearby. Though unlike a cactus this tie will repel liquids and spills keeping you looking sharp all day long. "Pear" with a navy suit for best results. Available as a skinny cactus tie (2.5" Width) or in Standard width (3.25").
Oasis - Pink Cactus Tie - Tough Apparel
***Custom designed by Christalle Bodiford***
Customer Reviews
Write a Review
Ask a Question
09/03/2020
Jennifer D.
United States
I recommend this product
Awesomeness
Always great thanks for great customer service
07/23/2020
Jennifer D.
United States
I recommend this product
Family matching
With last sale purchased for all the men and boys to match
07/11/2020
Jennifer D.
United States
I recommend this product
Awesome product Awesome customer service
Was VERY IMPRESSED with quality AND customer service Highly recommend!!!!!!!!!!!!!
06/20/2020
Rick A.
United States
I recommend this product
Taste of home
I bought two of the cool Oasis ties for our sons who are out of the country doing missionary work. They will be a great reminder of the beautiful Arizona (home) and also be talking points with people they meet. The pattern and cut are perfect, and as always, the stain resistant and ability to hand wash will be a big plus.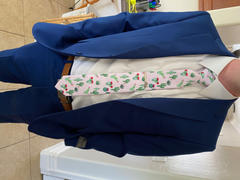 I recommend this product
Great tie. Great colors
I bought this tie for my son and it is his favorite. The colors are exactly as shown. It looks fantastic and a huge bonus that they're washable!
Shipping Policy
**Due to COVID-19 and Shark Tank, please allow additional time in processing and fulfilling orders. We are working with all partners to deliver your awesome Tough Gear as soon as possible.** We appreciate you and your orders!! We ship out product Monday-Friday, except for major National Holidays. Most orders will be shipped same day, if not then next day. To provide you with the best possible shipping prices, our standard shipping and free shipping options are through the United States Postal Service. We have no control on shipped orders once they are picked up by the USPS and claim no responsibility over the orders. We will do our best to help in any way possible but cannot guarantee any projected timelines given by us or the post office.