The Zone - Hustle Tie
HUSTLE COLLECTION
We took all of the incredible benefits of the standard Tough Tie and went berserk. With our all new heavier LUXFORCE fabric that guarantees the perfect knot, exclusive Hustle Collection designs, and 3" modern width, you'll be hard pressed to find a deal you can't close while you're wearing one of these premium machine-washable ties.
The Zone Tie - 3 Inch Modern Width
Customer Reviews
Write a Review
Ask a Question
I recommend this product
One of my favorite ties
This is a very professional looking ties along with the great quality that Tough Apparel is famous for. It holds a knot very well and looks sharp. It's reassuring to know that when (not if) I spill on it, I'll be able to wash it and not have to dryclean it. The tie pairs well with the great tie bars that ratchet belts that T.A. offers, too.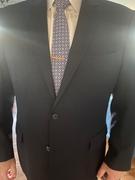 I recommend this product
Ties
I'm big guy. 6'1 300lbs. The tie is plenty long and is good width and feel. I will buy again.
Shipping Policy
**Due to COVID-19 and Shark Tank, please allow additional time in processing and fulfilling orders. We are working with all partners to deliver your awesome Tough Gear as soon as possible.** We appreciate you and your orders!! We ship out product Monday-Friday, except for major National Holidays. Most orders will be shipped same day, if not then next day. To provide you with the best possible shipping prices, our standard shipping and free shipping options are through the United States Postal Service. We have no control on shipped orders once they are picked up by the USPS and claim no responsibility over the orders. We will do our best to help in any way possible but cannot guarantee any projected timelines given by us or the post office.