Custom Tough Apparel Sock - Design Your Own!
Custom Tough Apparel Sock - Design Your Own!
Create your own epic pair of socks. Guaranteed awesome. 
*Design Tip
Having a hard time designing what you want through our custom app? Google "canva" and create your own design using a 10" wide by 21" tall template. Download that beauty and then upload into our Custom Sock product. BOOM! The perfect sock has just been created. Nice work. 
Customer Reviews
Write a Review
Ask a Question
06/19/2020
Rob C.
United States
Pow! Wham! Zing!
Holy beautiful socks, Batman! Seriously, these are better than I could have imagined.
06/19/2020
Dustynn M.
United States
Custom Socks!
We love our custom socks! They are hilarious and made the perfect fun gift to go with our tough belts!
06/15/2020
Bradyn C.
United States
Exceeded Expections!
I customized these socks with my dad's favorite sports teams for Father's Day. I was really nervous because some of the designs have small print and I expected them to be blurry and mush together. But no! The end product had very clean and sharp prints that are easy to see. I was also nervous because my dad has huge calves and most socks don't fit him unless they are super stretchy, and these seem to be stretchy AND comfortable enough! I'm once again impressed with the quality products that Tough Apparel puts out! Keep it up guys!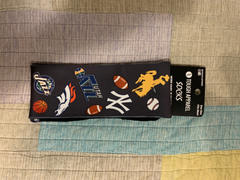 Shipping Policy
**Due to COVID-19 and Shark Tank, please allow additional time in processing and fulfilling orders. We are working with all partners to deliver your awesome Tough Gear as soon as possible.** We appreciate you and your orders!! We ship out product Monday-Friday, except for major National Holidays. Most orders will be shipped same day, if not then next day. To provide you with the best possible shipping prices, our standard shipping and free shipping options are through the United States Postal Service. We have no control on shipped orders once they are picked up by the USPS and claim no responsibility over the orders. We will do our best to help in any way possible but cannot guarantee any projected timelines given by us or the post office.