Custom Tough Apparel Face Mask - Design Your Own!
Why let us choose, when YOU can choose!!! Design that face mask!
"Buy One Donate One!" Every time you purchase one of our Locally Made, Reusable Washable facemasks we make and donate one to those in need!
•Available in Regular and Filter Pocket styles. *Filter not included*
Click here for Wearing/Sizing Instructions
Return Policy - Due to hygiene and quality reasons we do not accept any returns on Tough Apparel Face Masks. If there is a quality issue with your mask please contact us at happycustomer@toughapparel.com and we will issue a replacement.
Customer Reviews
Write a Review
Ask a Question
I recommend this product
Finally, a durable mask that fits ALL of you, not just your face
So I ordered two custom masks both cotton with a custom image on the masks, the image came out great on both masks, the feel of the cotton is very soft both on the outer and the inside. Granted, it's cotton, so on hot days it does get pretty warm within my own mask- which is expected so I can't really complain about that, because that's what happens with this type of material- So overall, product is great. Elastic straps were easy to adjust to me, I tied the top two straps together, so I'm going with the straps behind the head approach, and the straps don't irritate my skin, don't pull on my hair, don't leave any lines or marks. My glasses do fog up a little bit, which is also expected, I still haven't found a product that absolutely does not cause my glasses to fog up, but I'm making peace with that. I don't feel like if my breathing is restricted or limited while wearing the masks, nor do I feel that the mask prevents me from being able to mammal correctly. COVID19 doesn't seem like it will be leaving ANYTIME soon, so why not have a mask that reflects who you are? AND, Durable & Comfortable? Um... Yes, please!
I recommend this product
Great Custom Mask!
When I read that Tough Apparel was making custom masks, I knew I needed one for my chiropractic office. Since I need to wear a mask anyway, I might as well have some fun and show off our amazing logo :). There are certainly tons of fun options we can all do to add a little fun into our mask-wearing, and the Tough Apparel Guys can make your ideas a reality. PS - the mask cinches around the edges much better than my pic shows.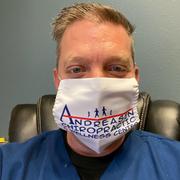 Shipping Policy
**Due to COVID-19 and Shark Tank, please allow additional time in processing and fulfilling orders. We are working with all partners to deliver your awesome Tough Gear as soon as possible.** We appreciate you and your orders!! We ship out product Monday-Friday, except for major National Holidays. Most orders will be shipped same day, if not then next day. To provide you with the best possible shipping prices, our standard shipping and free shipping options are through the United States Postal Service. We have no control on shipped orders once they are picked up by the USPS and claim no responsibility over the orders. We will do our best to help in any way possible but cannot guarantee any projected timelines given by us or the post office.