Black Canvas Ratchet Belt & Buckle Set
Love ratchet belts but have a hard time finding a more casual version? Look no further than our black canvas ratchet belt. All the comfort and functionality of a leather ratchet belt, but with a more laid back look. Don't be fooled by the canvas front though. This ratchet belt for jeans is still leather backed, providing the same long lasting durability as it's dressed up counterpart. Now all that's left to do is find more ways to show it off to all your friends.

Standard (Pant Size 40 and below)
XL (Pant size 60 and below)
Belt Strap: About 1 3/8"
With Buckle: About 1 1/2"
Customer Reviews
Write a Review
Ask a Question
I recommend this product
Tactfully casual
First things first, a little about me. I'm a physical therapist so my typical work clothes are some combination of slacks and a polo. This belt is a happy medium. It shares the same awesome abilities to have microscopic tightening adjustments but will also choke the nips of a rooster if you wanna test it's bridges upper foundational abilities. Trust me there will be no suspenders needed. Make sure you know how to loosen it before you put it on or that makes for a sticky situation. I needed a belt that wasn't super dressy and I could wear with black or grey shirts with tennis shoes. This is it! This belt is midway between casual and tactical. It's casual enough to get your birdies on at the country club or tactical enough to negotiate a hostage situation, diffuse a bomb and talk down a jumper all after lunch on a Friday. Do yourself another fat one and click buy. Also buy the belt hanger or else you fancy new belts will be all over the flo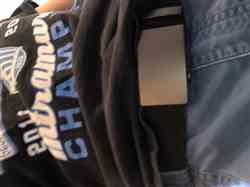 06/07/2020
joe p.
United States
Great belts
I love my new belts. Fit great and look sharp.
05/26/2020
Andrew A.
United States
Versatile and attractive belt
Really like this belt and buckle, and the ability to "custom fit". My only suggestion would be to reinforce the finished end of the belt, since it seems it might be prone to fraying with use.
05/26/2020
Richard M.
United States
Love this belt
So far I am loving the belt I ordered. Too soon to really say how well they're made but just by looking at it and the feel of it, I have the utmost confidence this will be my favorite belt by far.
05/23/2020
AVIGDOR G.
United States
Shipping Policy
**Due to COVID-19 and Shark Tank, please allow additional time in processing and fulfilling orders. We are working with all partners to deliver your awesome Tough Gear as soon as possible.** We appreciate you and your orders!! We ship out product Monday-Friday, except for major National Holidays. Most orders will be shipped same day, if not then next day. To provide you with the best possible shipping prices, our standard shipping and free shipping options are through the United States Postal Service. We have no control on shipped orders once they are picked up by the USPS and claim no responsibility over the orders. We will do our best to help in any way possible but cannot guarantee any projected timelines given by us or the post office.